The Best SD/MicroSD Card Readers of 2020
by Alan Pfahler on February 16, 2020
---
Card readers come in all sorts of shapes and sizes, with all types of connectors. They don't just read SD cards, some can read microSD cards, CompactFlash (CF) cards, and even Sony's Memory Stick Pro Duo. In that case, finding you the best SD card reader might become a stressful experience. However, a guide such as this one should make things much easier and allow you to easily find the ideal card reader. Here is the best value for money memory card reader to supercharge your SD, microSD memory card image transfers.
We bought 10 of card reader samples from 15 suppliers, and how to choose the best SD card reader? In general, are not too complicated devices. Therefore, their most important characteristics don't include many categories:
read/write speeds
compatibility
connector
price
reliability and warranty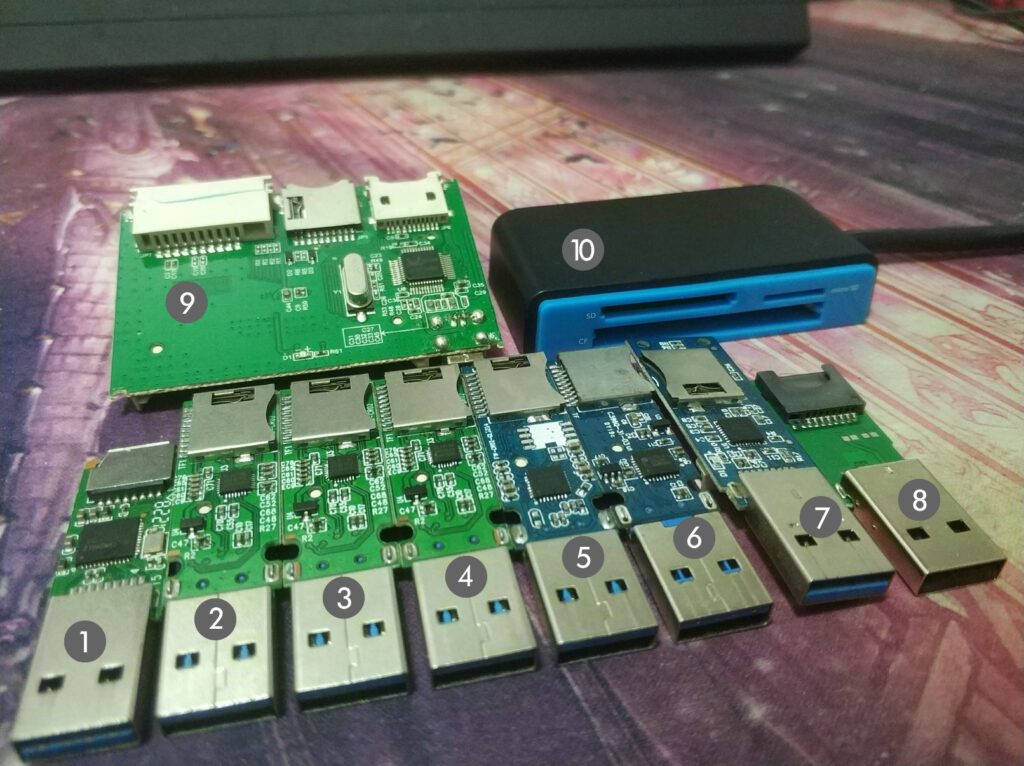 After calculating speed times for 10 of SD card readers on the market, we discovered our favorite is the 5th SD card reader (available at Amazon for $6.99). Not only did it hail some of the fastest write speeds from the batch of readers we tested, but it also offers a multitude of connection options. The Fastoe USB 3.0 SD Card Reader is a worthy card reader for anyone who needs to get their data off of a memory card.
Next, we show you the test data:
Test Card: SanDisk Ultra 32GB
Benchmark: CrystalDiskMark 7.0.0 x64
Settings: 1024 MiB, 5 passes, random test data
Chipset: GL3221
SEQ1M(Q8T1): R: 43.62 MB/s, W: 24.54 MB/s

Chipset: GL3213S
SEQ1M(Q8T1): R: 93.33 MB/s, W: 22.65 MB/s

Chipset: GL3213S
SEQ1M(Q8T1): R: 93.33 MB/s, W: 21.60 MB/s

Chipset: GL3213S
SEQ1M(Q8T1): R: 93.33 MB/s, W: 22.65 MB/s

Chipset: GL3224
SEQ1M(Q8T1): R: 96.67 MB/s, W: 23.49 MB/s

Chipset: PL2731B
SEQ1M(Q8T1): R: 44.25 MB/s, W: 21.81 MB/s

Chipset: GL3224
SEQ1M(Q8T1): R: 96.25 MB/s, W: 22.65 MB/s

Chipset: NULL
SEQ1M(Q8T1): R: 19.50 MB/s, W: 16.15 MB/s

Chipset: RTS5158
SEQ1M(Q8T1): R: 21.81 MB/s, W: 16.99 MB/s

Chipset: GL3233
SEQ1M(Q8T1): R: 61.87 MB/s, W: 22.02 MB/s