How to Fix Windows Upgrade Error 0xC1900101 – 0x4000D
by Alan Pfahler on April 13, 2023
---
When performing an upgrade that involves a huge jump between two versions, you may receive Windows 10 Upgrade Error 0xC1900101 – 0x4000D. The full error might read:
We couldn't install Windows 10
We've set your PC back to the way it was right before you started installing Windows 10.

0xC1900101 – 0x4000D
The Installation failed during SECOND_BOOT phase with an error during MIGRATE_DATA operation.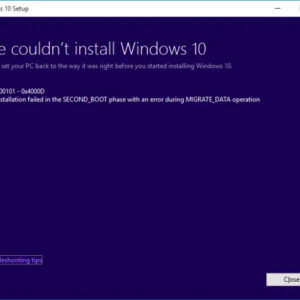 Make sure you try out each of the methods suggested below for a successful outcome. We recommend solution 2.
Solution 1: Manually Check for Drive Update via Windows Update
Windows 10 downloads drivers automatically, but there might be a list of drivers to resolve your problem.
Go to Start menu > Settings > Update & security. Click on View optional updates on the right.
Click on Driver updates to expand and see if any drivers are available. Check all drivers available and click on Download and install.
Try to rerun the upgrade after all drivers are up to date.
Solution 2: Perform a clean install of Windows 10 (Recommend)