How to Fix Secure Boot Violation
by Alan Pfahler on November 25, 2022
---
The following message may appear when your system boots When you installing new Windows or after applying Windows Update.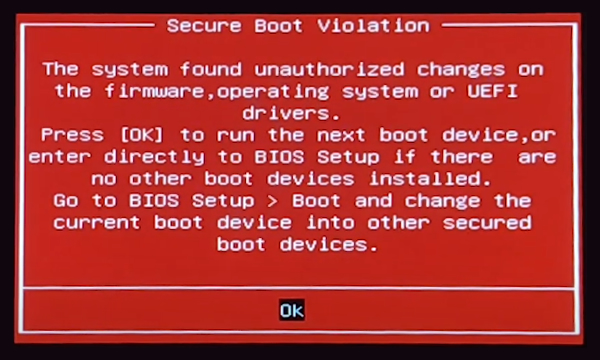 The system found unauthorized changes on the firmware, operating system, or UEFI drivers. Press [OK] to run the next boot device, or enter directly to BIOS Setup if there are no other boot devices installed. Go to BIOS Setup Boot and change the current boot device into other secured boot devices.
Please follow the steps below to fix Secure Boot Violation problem.
Turn off the computer.
Press the power button to turn on the computer, then immediately press DEL or F2 repeatedly, until the BIOS setting display. This should load up the ASUS UEFI BIOS utility interface.
Go to the Advanced Mode by using Hot Key F7.
Go into the 'Secure Boot' option under the Boot section.
Pick OS Type and set it to Other OS.
Press F10 and select Yes to save and exit.
Boot the computer from the Fastoe USB drive again.